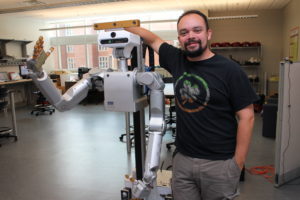 Christopher Reardon, PhD, is a computer scientist and experimental roboticist. His research broadly investigates how to enable robust human-robot teaming in real-world environments through AI and multimodal interaction.
Dr. Reardon joined the faculty at the University of Denver in late 2020 as an Assistant Professor in the Department of Computer Science at the Ritchie School of Engineering and Computer Science. He is founder of the Autonomous Robotics and Interactive Systems Experimental (ARISE) Laboratory at DU.
Prior joining DU, Dr. Reardon spent over four years as a research scientist at the U.S. Army Research Laboratory, where his research focused on enabling better human-robot teaming for autonomous mobility and maneuver contexts.  Dr. Reardon maintains an affiliation with ARL through a Joint Faculty Appointment.
Dr. Reardon has published over 30 peer-reviewed journal and conference articles to date.  Dr. Reardon is an IEEE Senior Member.  He is actively involved in the greater research community, regularly serving in organizational leadership roles at conferences and workshops. 
Research Interests
AI-enabled human-robot interaction and teaming
emergent technologies and wearables for interaction
heterogeneous, multi-robot, air-ground teams
real-world and field robotics applications
cognitive and perception systems to enable the above
Personal Interests
Outside of work, he enjoys kayaking, xc skiing, and activities like agility with his dog, Hank.